Founded in 2016, Talk Easy with Sam Fragoso is a weekly podcast of intimate, long-form interviews with people from all walks of life: filmmakers, comedians, activists, politicians, actors, and once, my mother. The show is hosted by writer/director Sam Fragoso. New episodes every Sunday morning.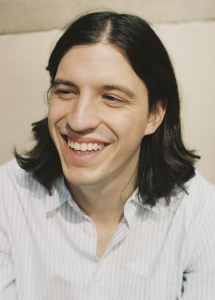 Sam Fragoso, Host
Sam is a writer, director, and radio host based in Los Angeles. From 2013-2017 he operated the film-focused website, Movie Mezzanine. His writings have appeared in Vanity Fair, NPR, WIRED, The New Republic, Playboy, and The Atlantic. He was previously the Creative Director of the Roxie Theater in San Francisco.
His debut film, Sebastian, is about his grandfather who left Mexico for America in 1948. It's played festivals around the US and Europe. You can watch it here.
You can watch his music video for Noel Wells' "Still Sleeping" here.
Karoline Ribak, Producer
Karoline is a Los Angeles-based producer. In 2017, she helped launch Chapman University's Institute of Creative Reality (ICR), an incubator dedicated to testing new and emerging tech for content creation in immersive media.
She later worked at NBCUniversal and Variety. Karoline has been lovingly producing Talk Easy since 2019 and received her MBA from Chapman's Argyros School of Business and Economics.
Janicza Bravo, Executive Producer 
Janicza Bravo is based in Los Angeles. She writes and directs—but mostly directs.
Her work in film has screened at festivals. Her work in television has played on cable and streaming.
She hopes to one day go back to the theatre. And also make more visits to the beach. She rents and does not own. And drives a car she won in a sweepstakes.
Nikki Spina, Associate Producer 
Nikki is a writer-producer based out of Orange County.
As a theatre stage manager and co-producer, she has premiered work at the Edinburgh Fringe Festival and managed productions at Washington DC's John F. Kennedy Center and Keegan Theatre.
Recently, she worked on the set of The Mandalorian and continues to assistant direct on Chapman University film sets.
Krishna Shenoi, Illustrator 
Based in Bangalore, India, Krishna Shenoi is a renowned illustrator.
A graduate of Srishti Insitute of Art, Design and Technology, his work has appeared in The Chicago Sun-Times, RogerEbert.com, and a series of children books by Tulika Publishers. 
Ian Jones, Designer 
Over the last five years, Ian has worked to build brands in digital and physical spaces. This has led to sales-driven web development for half billion dollar companies, rebranding of several entities including Warnors Theatre in Fresno, and now work as Media Director of Thrive Psychology in LA.
Along with design, he has worked with the host, Sam, on various video and audio projects as a video editor, set designer, audio engineer, and music producer.
Patrice Li, Marketing Lead 
Patrice is a senior at Chapman University pursuing a BS in Business Administration with an emphasis in Marketing.
In her free time, she loves to spend her days at the beach with a nice book and cup of Philz Coffee in hand. She is a dedicated Seahawks fan and enjoys simple days with her loved ones.
She is excited to get her start in the entertainment industry by being on the Talk Easy team, and hopes to continue her post-graduation career in the world of sports and entertainment.
Andree Lin, Lead Editor
Andree is a sound editor and mixer originally from Taiwan, where she worked as a sound utility for feature films.
After moving to the US, she turned her focus toward post-production sound. With sound, she wants to tell the stories of those underrepresented.
Jules Rector, Marketing Intern
Jules is in her last semester at Chapman University's Dodge College of Film & Media Arts getting ready to graduate with a degree in Broadcast Journalism & Documentary Film. She's been involved in Orange County's only live news broadcast, Chapman News, for two years as an Entertainment producer and reporter. She also creates content for the Yoga Wake Up app blending her love of content creation and the practice of yoga. 
Jules loves watching horror films, analyzing reality television and constantly changing her hairstyle. She's excited to start a career in entertainment reporting and unscripted television production.
Ian Simmons, Marketing Intern
A local of Boston, MA, Ian has fallen in love with all things media and entertainment over the years. He is an avid performer, beatboxer, and composer, and above all else, he has a deep appreciation for passion and creativity, and whatever forms they may take.
He is pursuing a degree in Public Relations and Advertising at Chapman University, and hopes to continue his post-graduate career in the entertainment industry.
David Harding, Editor  
David Harding has worked as a picture and sound editor for five years on various films for the National Parks Service, the YMCA, and for his own directorial ventures.
David studied film theory and production at Cal State Fullerton, and graduated in 2019.